ICONIC NO 3
The perfect cat eye. Ultra glamorous, this look begins with very elegant lashes, increasing in length and volume as you follow the lash line before flaring out creating a winged look at the outer corner.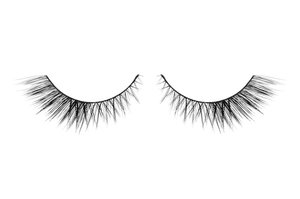 +About Erin Nicole Strip Lashes
Lash artist inspired to suit all eye shapes, there is an elegant Erin Nicole strip lash custom designed with you in mind. Extremely lightweight, soft and natural, Erin Nicole strip lashes are handcrafted to replicate and feel like a professionally applied set of lashes.
Custom Designed & Hand Crafted – Each Erin Nicole strip lash has been custom designed and meticulously hand crafted.
Long Lasting - Erin Nicole lashes can be worn up to 25 times when cared for properly and won't change their shape and form.
Extremely Comfortable - A flexible handcrafted cotton band results in an easy to apply and comfortable pair of lashes you can wear all day or night.